Buy Condos or Houses in GTA
Use our advanced real estate technology to find your next home faster and easier
We provide a customer-centric and transparent digital platform aim to reduce the level of information asymmetry and conflict of interest between parties in a real estate transaction.
RoboShowing's offers great flexibility a home buyer has in how to manage the house hunting process. You research the market and properties based on what is important to your family, and avoid one real estate agent's bias such as property recommendations based on personal experience and preference. In addition, our RoboShowing Specialists are here to provide information and property showing service to support your research.
Browse the MLS listings from the Toronto Real Estate Board on roboshowing.ca. You can filter by: buying or renting; price, style; city, district, and community. Build a wish list of properties you like while you browse.
Book a property showing on your schedule right from the listing. Select two possible options for showings in case the home owner is not available on your schedule. Click Book Viewing and the property will be added to your RoboShowing® Bookings. Continue browsing properties or Check Out
You can book several appointments for one day, though we recommend focusing on properties in one community to make the best use of your time and get the most out of your RoboShowing® experience.
You can remove properties from your cart before completing your booking request. Simply create an account, if you have not created one already, and click Check Out after you've reviewed the properties in your Shopping Cart. Large families are welcome to use our service but each showing is limited to a group of 5 people; if your group has more than 5 people, please use the note feature or email, online chat, or call us at 1-800-963-1997 to let us know before the appointment.
Complete the payment and your booking confirmation, with the exact date and time, will be confirmed by email within 30 minutes of booking during business hours. You can cancel a booking up to 2 hours before the appointment for a full refund. Please email, online chat, or call us at 1-800-963-1997 to make change to your booking.
Our customer's sense of safety at property viewings is of utmost importance. Our RoboShowing® Specialist will greet you outside the property and present you with their credentials: photo, full name, Toronto Real Estate Board License Number and RECO Registration No, registered brokerage firm name, and contact information.
Please bring identification with you with your name and address, like a driver's license. Our registered RoboShowing® Specialist will confirm your name and address with the RoboShowing booking. If the showing was booked by someone else on your behalf our RoboShowing Specialist will help you complete the registration process at the property. Checking the identification is required by law, in order to stay compliant with RECO regulations, and keep our RoboShowing® Specialists, customers, and home owners protected.
Now the RoboShowing® Specialist will give you a property overview, a guided walkthrough of the property, and some unpressured time for you to check out the property. In addition, the RoboShowing® Specialist will present you with a report bout the property and be available for any questions you might have.
RoboShowing's no sale pitch promise means that our Specialist will not offer advice on buying decisions. They will show you the pros and cons of a property objectively, and provide comprehensive information about the property and neighbourhood so you can make an informed, pressure free decision about your future home.
Most property viewings take 45 to 60 minutes.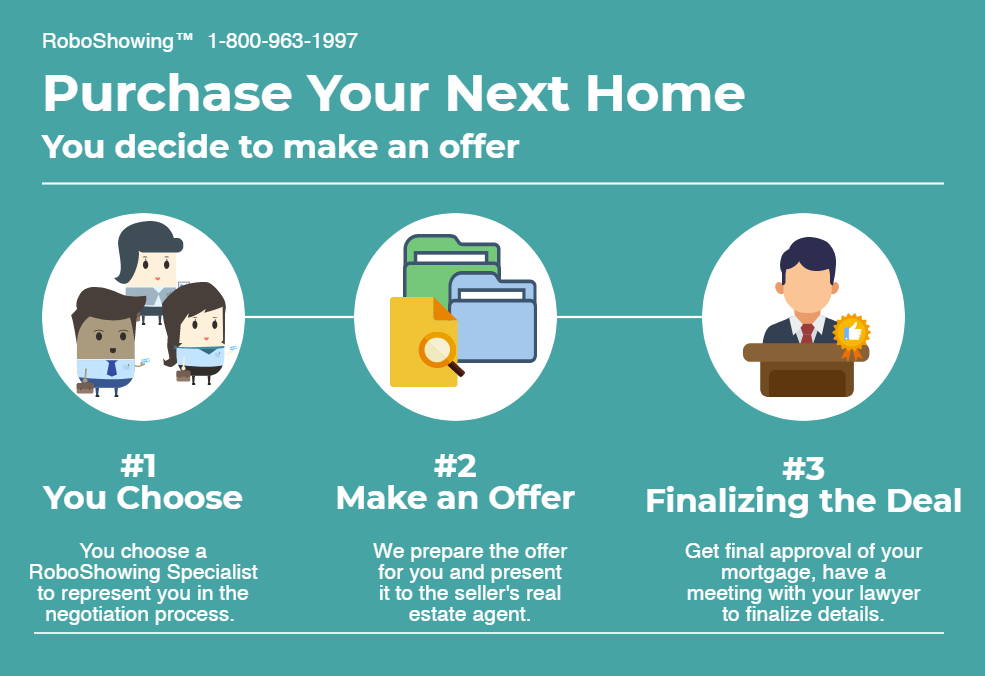 RoboShowing Specialists are Realtors®, registered with Canadian Real Estate Association, Real Estate Council of Ontario, and Toronto Real Estate Board. They are industry professionals commit to the no sales pitch, stress free approach. You are free to choose any RoboShowing Specialist to represent you during this process.


Direct House Hunting Live Support
Monday to Friday,     9:00 am - 8:30 pm
Saturday,                 9:00 am - 4:00 pm
Sunday and Holidays, 10:00 am - Noon
Toronto Local Time (EST)

Live Chat | Phone: 416.662.6318 | Email: support@roboshowing.ca